Fan engagement for entertainment
Anonymous viewers become fans if you turn a passive online video experience into an engaging interactive video. You get to know your fans much better and can build stronger relations with them using interactive video. This is invaluable for marketing future events and other commercial purposes. Most social platforms prevent building relations with fans and shield user information, making it difficult to build long-lasting relations. With hihaho, your online video becomes a much more valuable asset to connect directly with your fans.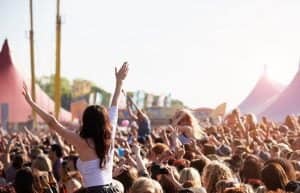 Viewers tend to click away if they do not find what they seek within seconds. With our interactions, they instantly see what the video is about and jump to the section in the video that is of interest to them. Interactive video keeps your viewers longer interested and the conversion is 6x higher than with traditional video!
Hihaho interactive video is great for:
Easily adding interactions on our DIY platform, no video editing skills required.
Adding buttons for call-to-actions, selling merchandise or other products in a video experience.
Adding clickable hotspots on items in the video that can be purchased.
Switching between camera angles or live streams on events.
Showing information in the video that you can change later without editing the source video.
Gathering data, like email addresses or other useful information, from your audience.
Interactive video is an essential solution if you are in:
Some facts about video:
75% of your audience prefer to watch a video instead of reading a text.
90% of all information captured in our brains is visual.
Visual information is captured 60.000 times faster in our brains than text.
97% of people say that they understand things better when something is explained in a video instead of on paper.
70% of all search requests on YouTube are for 'how-to' videos.
Every day 2 billion people watch instructional videos.
Why wait? Try hihaho interactive video solution for free! Register now and discover the benefits of hihaho interactive video.